We are in the final week before printing the Puget Sound edition of Retirement Connection Guide. If you have any changes you would like to see or additions that would benefit the community, please email me right away, so that we can include those. We will send a final PDF to every housing, home health, and home care agency at the end of the week to confirm that we have your grid changes exactly how you planned.
The guide continues to grow with each edition and we are so thankful for each of you that provided content for the guide or shared a copy with a family you are helping.
IMPORTANT- Many people do not realize, we welcome you to add your label to the cover with "Compliments of…" and to share the guide with others. We will give you as many copies as you will use. You do not have to be a sponsor to share the guide. We want all families to have access to resources and services as soon as a need arises.  Please let us know if you need additional guides.
Save the dates for the Release Parties -

April 24th @ Mercer Island

and

April 25th in Tacoma

.
MAR 5
8:30 AM
Senior Care Coalition Seattle Meeting
Aljoya Thornton Place Northgate
450 NE 100th St, Seattle, 981255

---
MAR 19
8:30 AM
Senior Care Coalition Eastside Meeting
Fieldstone Memory Care
23845 SE Issaquah-Fall City Rd, Issaquah, 98029

---
MAR 20
8:15 AM
South End Coalition
The Lakeshore
11448 Rainier Avenue S, Seattle, 98178

---
MAR 20
11:30 AM
Coordinators of Patient Services (COPS)
Merrill Gardens at the University
5300 24th Avenue NE, Seattle, 98105

---
MAR 22
9 AM
NW LGBT Senior Care Providers Network Meeting
Aegis Living at Ravenna
8511 15th Ave NE, Seattle, 98115

MAR 7
8 AM
Aging and LTC Providers Network
Mid-County Community Center
10205 44th Ave E, Tacoma, 98446

---
MAR 14
7:30 AM
Health Care Providers Council (HCPC)
Mountain View Funeral Home
4100 Steilacoom Blvd SW, Lakewood, 98499

MAR 14
11:30 AM
ElderNet
Pacifica Senior Living
1124 Pine Ave, Snohomish, 98290

MAY 9
8 AM
WMCMA Annual Spring Conference & Expo
Hotel RL Olympia
2300 Evergreen Park Dr SW Olympia, 98502
---
JUN 19
11:30 AM
Valley Medical Center-MAC E/F
Cascade Conference Room (Medical Office Building)
400 South 43rd St, Renton, 98055
---
OCT 2
12 PM
Providence Regional Medical Center Everett Case Management Vendor Fair
Cascade Conference Room (Medical Office Building)
1700 13th St, Everett, 98201
MAR 5
2 PM
The Power of Healing Well
Cedar Creek Memory Care
21006 72nd Ave W, Edmonds, 98026

---
MAR 7
10:30 AM
Boomer Plus Meeting – Ballard
Ballard Landmark
5433 Leary Ave NW, Seattle, 98107

---
MAR 7
2 PM
Boomer Plus Meeting – Northgate
Aegis Ravenna
8511 15th Ave NE, Seattle, 98115

---
MAR 7
4 PM
Taste of Sunrise Happy Hour
Sunrise of Bothell
10605 NE 185th St, Bothell, 98011

---
MAR 8
7:30 AM
Alzheimer's Discovery Conference
Washington State Convention Center
800 Convention Place, Seattle, 98101

---
MAR 12
1 PM
Baking with a Cause
Garden Court Living Room
520 112th St SW, Everett, 98204

---
MAR 14
ALL DAY
St. Patrick's Day Mixer and Luck O' the Irish Dinner
Normandy Park Senior Living
16625 1st Ave Normandy Park, 98148

---
MAR 14
10 AM
Five Wishes Advance Care Planning Seminar
CRISTA Senior Living - Cristwood Park
350 N 190th St, Shoreline, 98133

---
MAR 23
ALL DAY
Aging into the Future: Pierce County 2020-2030
McGavick Center - Clover Park Technical College
4500 Steilacoom Blvd, Lakewood, 98499

---
MAR 26
2 PM
Boomer Plus – West Seattle
4700 SW Admiral Wy, Seattle, 98116

---
MAR 27
ALL DAY
Health Fair
Stillaguamish Senior Center
18308 Smokey Point Blvd, Arlington, 98223

---
MAR 27
2 PM
Boomer Plus Meeting – Kenmore
Sunrise Senior Living
7221 NE 182nd St, Kenmore, 98028

---
MAR 28
11 AM
Your Next Chapter Awaits: Real Estate for Seniors (Workshop)
CRISTA Senior Living
19312 Kings Garden Dr N, Shoreline, 98133

---
MAR 28
6 PM
Healthcare Professionals Event: Palliative Care for People with Dementia
Aegis Living of West Seattle
4700 SW Admiral Wy, Seattle, 98116

---
APR 24
3:30 PM
Puget Sound Retirement Connection Guide Release Party
Mercer Island Community and Event Center
8236 SE 24th St, Mercer Island, 98040
RSVP

---
APR 25
3:30 PM
HCPC After Hours and Tacoma Retirement Connection Guide "After Party"
C.I. Shenanigans
3017 Ruston W, Tacoma, 98402
RSVP

"Courage is not the lack of fear. It is acting in spite of it."
- Mark Twain

If you are fearful, it likely means you have something to lose. Ask yourself, if the possibility of what you may gain is more important. If so- feel the fear and do do it anyway!

~ Amy Schmidt
Retirement Connection
503-505-5865
amy@retirementconnection.com

---
Job Postings
The following positions have been posted in the last month. (Some position are outside the Puget Sound area)
Social Services Director
Volunteer Outreach Specialist
Health Services Director
Travel Navigator
Director of Nursing
Full Time Community Liaison
Accountant
Teacher-Early Head Start Applegate

Apply or submit new positions online through Retirement Connection's Job Board.
---
Need More Guides?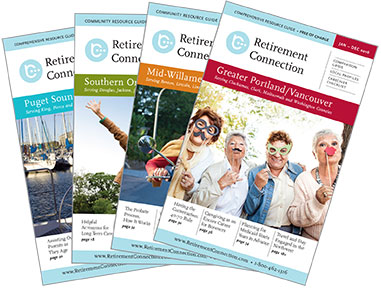 Additional copies of the Guide are available at no cost and are the perfect resource for health fairs, workshops and your marketing packets.
Guides are located at EVERY Senior Center, Hospital, Library and Meals-on-Wheels sites.
You can order as many as you need to serve the families in your community.
Add a label to the cover to highlight your business and use the guide as a giveaway.