I am thankful for many things this year, but the most important right now is that my husband is cancer-free!!! It was a long 10 months of surgery and treatment, but Lyman remained so strong, we would sometimes forget he was connected to a chemo pump. Additionally,  I am thankful for my staff, because this team never gives up and shows amazing resilience and strength without ever offering an excuse. I am thankful for all our sponsors who provide financial support to make our work possible. (Thousands of people use the guide, website, and network- but it is only possible because of a hundred generous individuals that sponsor). I am thankful for my friends and family who see my faults as strengths or just love me in spite of them. And I am thankful for past losses that afforded me the skills and faith to tackle new challenges.

On a work note- I am thankful that our new portal to report housing availability is FINALLY up and running. It can be viewed on the


availability tab

on

RetirementConnection.com

. Updates to housing profiles and current availability are best made directly on

www.careavailability.com

. This service is free for ALL housing. Sponsors will be able to add pictures and additional contact links, but every housing community can update availability in real-time. Any case manager, family, patient, or provider can view your availability from any device- any time. Encourage others to start reporting now. With any new launch, we are working out the kinks daily.
I hope you have much to be thankful for and we wish you happy holidays.
DEC 19
9 AM
Southern Oregon Networking And Resource (S.O.N.A.R.)
Dignity Memorial
550 Business Park Dr, Medford 97504
Co-Host: All Care In Home Care Solutions
Topic: White Elephant Gift Exchange (not required)
---
JAN 23
9:30 AM
Save the Date
Douglas County Senior Resource Coalition

Jan 8
9 AM
Save the Date!
Art Gala
Pioneer Village
805 N 5th St, Jacksonville, 97530

Do you know someone that has recently changed positions? Send us an update to share in the monthly newsletter, helping everyone stay connected and informed about community changes.
"Adversity does not build character, it reveals it."
– James Lane Allen

Last month we hosted our 10 year work anniversary in Portland and took a few minutes to share "our story" with the sponsors that joined us to celebrate. As a small business owner, I am proud of many things, but most of all- I am proud of how our team has not just managed when things are challenging, but strengthened. We have adapted, adjusted and overcome.

~ Amy Schmidt
Retirement Connection
503-505-5865
amy@retirementconnection.com

---
Job Postings
The following positions have been posted in the last month. (Some position are outside the Southern Oregon area)
Community Relations Director
Training Specialist
Verification Specialist
Travel Trainer
Marketing Coordinator
Senior Move Manager

Apply or submit new positions online through Retirement Connection's Job Board.
---
Need More Guides?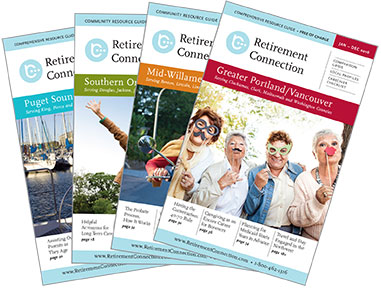 Additional copies of the Guide are available at no cost and are the perfect resource for health fairs, workshops and your marketing packets.
Guides are located at EVERY Senior Center, Hospital, Library and Meals-on-Wheels sites.
You can order as many as you need to serve the families in your community.
Add a label to the cover to highlight your business and use the guide as a giveaway.