We are already beginning the wrap up for our September edition of Retirement Connection Guide, and have sent ad approvals to all of our existing sponsors. Only 1 month left! All Housing, HomeCare and Home Health companies have also been emailed a proof of their current grid information and a link to provide their changes and/or approvals. Additionally, we are in the midst of calling every listing to check for changes. We appreciate your help with any additions or changes that will assist in making Retirement Connection the most complete and accurate guide possible for our community. 
Hospital Case Management Resource Fairs:
We had a great turnout at the Valley Medical Resource Fair in June with 28 case managers joining us for lunch, networking and continued education. We currently have at least 3 more events scheduled for the fall and will be sending more details in upcoming newsletters with links to register. Sponsors can register now for a CEU table for the next Providence Everett Resource Fair on August 30.


More Information 
JUL 18
11 AM
Senior Care Coalition Summer BBQ
Cedar Grove Park
Bothell, WA 98021

---
JUL 19
8:15 AM
South End Coalition
Arbor Village
24121 116th Ave SE, Kent, 98030

---
JUL 19
11:30 AM
Coordinators of Patient Services (COPS)
Maggiano's Bellevue
10455 NE 8th St, Bellevue, 98004

---
JUL 28
9 AM
NW LGBT Senior Care Providers Network Meeting
Merrill Gardens at First Hill
1421 Minor Avenue, Seattle, 98101

JUL 6
9 AM
Aging and LTC Providers Network
Mid-County Community Center
10205 44th Ave E, Tacoma, 98446

---
JUL 13
7:30 AM
Health Care Providers Council (HCPC)
Narrows Glen
8201 6th Ave, Tacoma, 98046

JUL 13
11:30 AM
ElderNet
Rosewood Court
728 Edmonds Way, Edmonds, WA 98020

AUG 30

Providence Regional Medical Center Everett Case Management Vendor Fair
1700 13th St, Cascade Conference Room (Medical Office Building), Everett, 98201
Register Online
JUL 5
8:30 AM
SASH Coffee and Networking - Tacoma
La Quinta Inn Tacoma - Ports of Call Restaurant
1425 E 27th St, Tacoma, 98421

---
JUL 7
9 AM
SASH Coffee and Networking– Snohomish
Bob's Burgers and Brew
1611 SE Everett Mall Wy, Everett, 98208

---
JUL 8
3:30pm
4th Annual Fundraiser for Puget Sound Honor Flight
Merrill Gardens at Renton Centre
104 Burnett Ave S, Renton, 98057

---
JUL 13
9 AM
SASH Coffee and Networking - Eastside Bellevue
Crossroads Shopping Ctr ( Community Rm)
15600 NE 8th St, Bellevue, 98007

---
JUL 14
9 AM
SASH Coffee and Networking – Kent
Kent Senior Center
600 E Smith St, Kent, 98030

---
JUL 21
9 AM
SASH Coffee and Networking - North King
Shoreline City Hall - 3rd Fl Conference Rm
17500 Midvale Ave N, Shoreline, 98133

---
JUL 26
9 AM
SASH Coffee and Networking-Puyallup
Willow Gardens
4502 6th St SE, Puyallup, 98374

---
JUL 28
9 AM
SASH Coffee and Networking- Federal Way
Marlene's Market & Deli
2565 S Gateway Center Plaza, Federal Way

"May we think of freedom, not as the right to do as we please, but as the opportunity to do what is right." ~Peter Marshall

Happy 4th of July! I wanted the quote this month to be patriotic, but not political. I think it is important for all of us to remember the difference. No matter our politics, I hope we can find common ground to create a safe, healthy, inclusive country where we are proud to raise the next generation. God Bless.

~ Amy Schmidt
Retirement Connection
503-505-5865
amy@retirementconnection.com

---
Job Postings
The following positions have been posted in the last month. (Some position are outside the Puget Sound area)
Community Relations Director
RN Positions
Health Services Director
Health and Wellness Coordinator
Clinical Care Coordinator
Speech Language Pathologist
Occupational Therapist
Wellness Director
Client Care Coordinator
Resident Care Coordinator

Apply or submit new positions online through Retirement Connection's Job Board.
---
Need More Guides?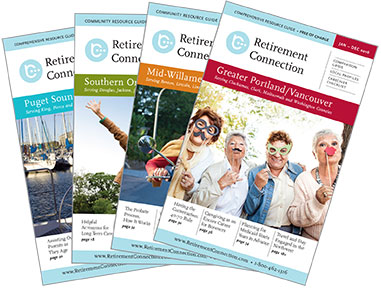 Additional copies of the Guide are available at no cost and are the perfect resource for health fairs, workshops and your marketing packets.
Guides are located at EVERY Senior Center, Hospital, Library and Meals-on-Wheels sites.
You can order as many as you need to serve the families in your community.
Add a label to the cover to highlight your business and use the guide as a giveaway.